Family Mission Trips Partners
e3 Legacy—Families on Mission

Your Family… His Glory
Families were God's idea, so let Him use your family to impact families for Christ around the world. Seems impossible considering no one in your family has shared the Gospel before, right? What you can't do, God can as we've seen Him do with any family willing to be obedient to Jesus' Great Commission.
American parents are intentional about many aspects of their children's lives: education, athletics, the arts. Yet, how intentional are we about our children's spiritual lives outside of Sunday school and an occasional prayer time? Family mission trips offer parents a practical way to help their older elementary and high school-age children become mission-minded. Strengthen your family bond and build your family's spiritual legacy by taking a focused time, a "Spiritual Boot Camp" of sorts, to serve together on the mission field for a week. Learned knowledge becomes activity knowledge as you put feet to your faith.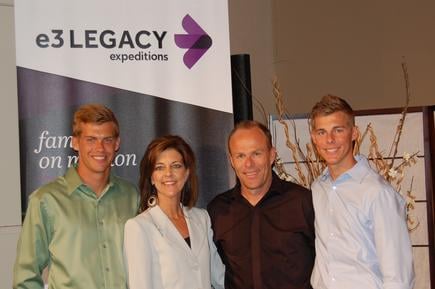 e3 Legacy is committed to leading family-friendly mission trips to "equip believers to evangelize the lost to establish multiplying churches." God designed the family unit. And when families minister together, it profoundly impacts indigenous families, who often are hearing the Gospel for the first time. God is looking for obedient families, not spiritual giants. Fast-forward your family's spiritual journey by participating in an evangelistic and discipleship mission trip that majors on those things close to God's heart, by taking His love story to people separated from Him.
Learn more about how you and your family can be a part of reaching the world for Christ and connect with each other on a deeper level, through faith and action, on mission.
Visit the e3 Legacy website, check out some of the resource links, articles and video below, and connect with us on Facebook and via the e3 Legacy blog.
We look forward to connecting with you. Adventure and impact awaits!
May God bless you and your family!
Andreas and Terri Mehrguth<br>
Directors, e3 Legacy
DISCOVER
LEGACY Mission – Learn more about upcoming trips to Kenya, Nepal, Peru, Malawi, Brazil.
CONNECT
e3 Legacy Facebook page
Broadcast: Family Legacy Trips Radio Broadcast with Dr. James Dobson's Family Talk. Aired March 20, 2013.
Contact Us
andreas.mehrguth@e3partners.org
terri.mehrguth@e3partners.org
949-350-2335
RESOURCE ARTICLES
LEARNING
Learn more about e3 Partners, how God is using us, and where you fit in! Engage e3 provides a complete overview of our ministry, what drives us, and how we operate. Read More.
PARTNERING IN PRAYER
We are developing an ever-expanding prayer network that engages people daily on the issues facing our world. Get connected with updates from our teams across the globe and find resources that will enhance your prayer life.
SPEAKERS
Are you looking for a dynamic personality with a compelling story for your next event? Click the link below to explore our list of available speakers who will entertain and challenge your audience.
I AM SECOND STORE
Let the world know you're second. Decals, apparel, iPad sleeves, wristbands – we have it all. Creatively express your second-ness to with the gear you use most.
e3 RESOURCES
We understand inspiration and it all started with EvangeCube. We provide a variety of tools, including a line of education cubes aimed at fighting the world's toughest humanitarian issues.
e3 MARKETPLACE
Find all of your e3 gear in one place. Pick up cubes, t-shirts, business accessories, and more. We have everything you need to prepare for your upcoming trip.