What keeps you up at night? As a father of five, I often spend countless hours at night thinking and praying about the spiritual welfare of my kids. Yet, if I'm totally honest with myself, it is not the prayers that are causing me to lose some of that sleep. It is my perpetual concern that I'm not doing enough for my children.
As a young man, I always aspired to become a father. Even as a teenager and young adult, I had a love for kids that my peers seldom shared. I also had a very strong paternal sense for those children that were left unprotected by their parents or society's welfare systems. Yet, too often during those years I spent countless hours on myself versus investing in the needs of the children that God positioned around me.
"It's a boy!" I can still remember hearing those words for the first time. Can you? My wife and I had recently celebrated two years of marriage. We were young, in love, and now parents. Seeing my son within my wife's womb is still a memory I pray that I will never forget. He was only a few inches in size. Yet, he captured a part of my heart I never knew I had until that day.
Twenty-two years and seven children later, that portion of my heart still aches for my kids in a big way. Two of those children never saw this side of eternity and went straight to be with their Heavenly Father. The tears that swell within my eyes as I write this are the tears of a father's love. It is a God-given love, a love that I know God hard-wired into my being as a father.
You would think that a love so strong would be a defining force over one's life. Unfortunately, I've allowed other loves to become equal driving forces in my life that have often pulled me away from my greatest loves. For some men, it is their love of sports. For others, it is their work. Regardless of the type of love that pulls dads away from their homes, the results are always the same. The children suffer.
"Lord, I don't have enough time in the day to get done what I know needs to get done for my children."
Have you ever said this to God? I'm guessing as many moms say this as dads do. I think of all the single moms out there that often do the work of two parents. My heart goes out to them. I know that God gives us enough time to do what He wants us to do. It really comes down to priorities and trust. Are we doing what God wants us to do and are we trusting Him with the results?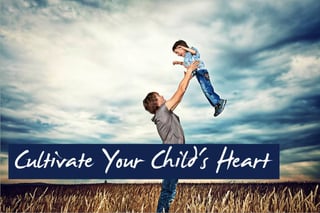 I was reminded recently of the similarities that are shared between a father and a farmer. Can you picture it? It is a few weeks before harvest time. The late summer nights that were once filled with sun are giving way to shorter and cooler days. The farmer leans against the old wooden post. It has been another long day. The beads of sweat slide down his sun-wrinkled face. He sighs and looks with longing eyes at what is before him. He has poured his life into these fields and now he must trust God with the results.
Isn't this the case for us dads as well? God has given us, in some sense, a farmer's role over the hearts of our children. This is a sobering thought. As father's, we are given the precious gift and responsibility to cultivate our kids' hearts for God. Yet, like the farmer, we can only do what we can do and then we must put our trust in a sovereign God.
The pinnacle question is this: Are we doing all we can do with what God has given us?
The follow-up question: Are we then trusting God with the results?
As a father, I must resolve with great intentionality to do all I can do to cultivate the hearts of my kids for Christ. This no doubt involves living and pouring God's Word into them as much as I can. I have often said that our children catch our actions much better than they hear our words. It also entails praying daily for their hearts to be anchored to God through Jesus Christ. I do this remembering that "my" kids have a Heavenly Father that loves them even more than I do. This is what allows me to eventually fall asleep.
These are some of the things I wrestle with in the wee hours of night and for good reason. What about you? What keeps you up at night?

"And He will turn the hearts of fathers to their children and the hearts of children to their fathers..."

Malachi 4:6
Fatherhood Challenge
Consider the following questions:
Are you intentionally cultivating the hearts of your children for Christ?
Are there any weeds or pollutants in their soil? (media, poor friendships, etc...)
Are you loving the helper God has given you?